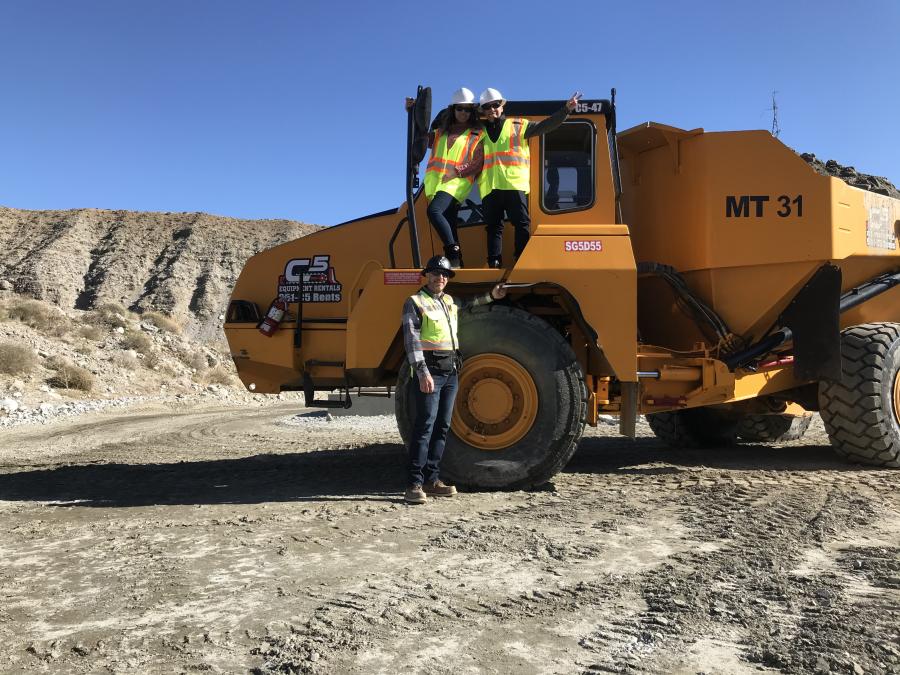 Jason Goldsbrough (Front) is an experienced project manager who has successfully completed many projects in California thanks to working his way up in the construction industry. Pictured behind him are his wife, Michelle (L), and her sister, Regina, at the Whitewater project for Metropolitan Water District of Southern California.(Jason Goldsbrough photo)
Jason Goldsbrough, an experienced senior project manager for heavy highway and bridge projects, began his career in construction in 1996 and — over the years — has overseen many projects of all sizes, sometimes taking on two or three simultaneously.
One could say that Goldsbrough, born and raised in Sonoma County in the north Bay Area, was destined for a career in construction. His father, Marty Goldsbrough, a retired civil engineer, introduced him to the industry and from there, his rise into the ranks of project management was meteoric.
He began as a laborer, working on projects that focused on underground infrastructure, such as laying pipe and HDPE liner. Six months later, he was promoted to a grade checker when his employer Performance Excavators Inc. realized he could read project plans. After one year in this capacity, he was promoted to project management. Since then, he has been involved in many major projects in California, such as the Fairway Grade Separation in the city of Industry, the Colorado River Aqueduct Whitewater Siphons Erosion Project in Whitewater, the LACTMA Exploratory Shaft in Los Angeles, the Natomas Levee Improvement Program, the Sacramento River East Levee, Phase 3B in Natomas, Lancaster Reclamation Plant in Lancaster, the Highway 80/580 Separation Seismic Retrofit in Emeryville and the New Murray Middle School in Ridgecrest.
Goldsbrough moved to southern California in 2005, where most of the projects he is involved in take place. He has been employed by several general contracting firms, including Performance Excavators Inc., Sukut Construction, Innovative Construction Solution, RockForce Construction and recently made the move from OHLA USA to the Griffith Company (which he joined in mid-September).
Prior to entering construction, Goldsbrough had some experience with carpentry and surveying and when he worked in the field, operated construction vehicles such as loaders, excavators, skip-loaders, 2,000-gal. water trucks and dozers. Although Goldsbrough does not consider himself an operator, he has great respect for those who make it look so easy.
In addition to standard road and bridge projects, his work also includes building and rehabilitating dams, creating landfills and residential development.
In the Q&A below, Goldsbrough discusses his career and the many interesting situations he has experienced.
CEG: You stressed that "your project is your company." Could you elaborate on that?
Goldsbrough: I view every project that I run as my small business. I am the one who is responsible for the financial success and the need to meet our contractual schedule. I believe this gives one the mindset that you are vested in the project. With this mindset, you feel more of a responsibility to manage your cost and, with teamwork, find the fastest most efficient way to get the project done. I believe one cannot simply look at their budget and think of it as "this is how much I have to spend". You need to look at it as "what can we do to spend less and be more profitable." Learning from my father and seeing how he ran his business helped tremendously with this mindset.
CEG: The role of a project manager is very similar to that of a director for a major Hollywood production — in the end you are responsible for every action and the ultimate success of the project. What are key aspects of successful project management and what have you learned over the years to make you a better project manager?
Goldsbrough: Realize you don't know everything. Even if you bid the project you are running, you will need help. Learning to ask for help took me a while, but ultimately was the path to my most successful projects. As I tell my team members, "if you don't know where you are going, then you won't know how to get there." I say this remind everyone that we have a plan. This plan can be modified but only if it can be proven to reduce cost and/or time.
Should the plan get modified, I've learned to include everyone on the team. This way everyone is heard and able to suggest something to benefit the project. This also gives the team a sense of buy-in and they are usually more excited about the day-to-day activities which in turn will reduce cost and time. We do this by having weekly meeting and a work plan meeting for every major activity and complicated or risky activities. We go into great detail and have triggers to make sure everything is done prior to starting the activity. Again it's all about teamwork.
CEG: Transportation projects are equipment driven. As a project manager, why is it essential to be aware of capabilities, operating conditions, maintenance, the latest models and having various pieces of iron work in tandem to maximize efficiency, production and safety?
Goldsbrough: Well, I am by no means an operator, however, being in the field and occasionally operating equipment was vital to my understanding of what different equipment is capable of and what works best in different situations. From the time I began in construction back in 1996 to now, the advancement of equipment is simply unbelievable. With some equipment coming out, you can operate it remotely via GPS.
The advancement in more fuel efficient and environmentally friendly equipment is great to see, plus it reduces both cost and greenhouse gases. The key to understanding equipment is how they work and how to get the most out of them. Understanding the cost aspect and knowing that it may be worth it to have more of a cost/hour because production will be increased and thus time saved.
An example is understanding that it pays to have a blade on a scraper haul as it will keep your haul roads graded so your scrapers will be able to run at a full safe speed. The safety of equipment has also increased as technology has advanced with the use of cameras for blind spots or better-balanced equipment to help prevent roll-overs.
CEG: How important is it for you to coordinate with equipment managers, the head of maintenance and those responsible for purchasing equipment?
Goldsbrough: It is vital. The firms I've worked with both own and rent equipment. That being said, as a PM you must be ahead of your crews in the field and have a plan for what equipment you need. You must know when you will need it and for how long.
Building relationships with your equipment sales manager is a great way to give them business and develop trust. Your honest and open communication with them is the foundation of the relationship. This is the same for our internal equipment managers. Knowing what equipment will be used most help your purchasing department choose what to buy for the company or on a specific project. This goes back to working with your superintendents, who truly know the best equipment and the skills of their crew members, to choose the best equipment for the company.
CEG: To successfully deliver a project, teamwork and respect for all is a given. What steps do you take to unite the team and how important is that you are seen to be approachable by members of the crew from all ranks?
Goldsbrough: Teamwork is so important to a successful project. On every project I run we have work plan meetings. These are meetings with the projects management and field supervision. Knowing our CPM schedule, we look at upcoming activities and plan those activities out. I tell my team that I will bring up some crazy ideas on how to work the plan and they may look at me like I don't know what I am talking about or this is crazy. The reason for this is three-fold: First, it will get the team thinking outside the box of how construction is normally performed; two, this idea may spark others to bring up something in their past that is similar and has proven to work before; and third, it will show the team that I'm not afraid to look like an idiot. Letting go of one's ego usually opens the door for those to approach you.
CEG: Looking back on your career, which projects are you most proud of? As well, which ones have been the most instructive in terms of improving your skills and challenging your abilities?
Goldsbrough: The first one that pops into my head is the LACTMA Exploratory Shaft in Los Angeles. This was a project that was very different in terms of its purpose. This project was not going to be used by the public, instead it was more of a research project. We were contracted by LACTMA to excavate a 20-feet by 40-feet wide shaft approximately 70-feet deep along Wilshire Boulevard in Los Angeles. The purpose was to determine how different types of shoring systems reacted to the asphalt impregnated sands (tar sands) within the Brea Tar Pits.
Since the Purple Line Metro was going to be put out to bid, it required the contractor to excavate within the Brea Tar Pits. So, engineers needed to better understand what shoring system and ventilation would work best given the tar sands unique properties. The tar sands are under about 17 psi of pressure, which causes them to get through any and all voids they can find. This was one of those projects where production was not as important as was the research itself. After the project was done, we filled the void with Cell-Crete, a light weight concrete.
As far as improving my skills, I'd say it was the Riverbend Soil Revetment and Rough Grading Project in Norco. We were contracted by Lennar Homes to grade housing pads adjacent to the Santa Ana River and construct a soil cement wall. This was the only project I ever ran where you had both dewatering, due to the high water table and pre-watering due to the dry sands and silts above the water table. Due to personnel changes I was required to not only be the PM, but also the superintendent. It was a grueling task but one that honed my skills in dealing with the client, their inspectors as well as our field crews. This project was another reason why I have so much respect for field crews and their supervision.
CEG: Improvements in software, equipment, materials and construction practices continue to reshape the way road and bridge projects are being constructed. How would you describe the changes you witnessed since starting as a project manager? And are the demands upon members of the project management team more demanding today?
Goldsbrough: Technology has definitely played a huge role in the advancement in construction from software like GPS to more efficient equipment. When I started GPS was new and not trusted, and it was common to see construction equipment blow clouds of black smoke. Now GPS is essential on most projects and most of the equipment we own/rent has tier 3 engines, which make them more environmentally-friendly, as well as more fuel efficient. I do believe this advancement in technology has made construction more productive, however I believe the competitiveness of our industry is the root cause of the increased demands in our field.
CEG: Looking forward five years, what changes do you anticipate in regards to project management and what are you doing to prepare for them?
Goldsbrough: Five years from now I see technology playing a even bigger role in construction. I see equipment being more versatile and efficient, and software being more compatible with project management and its relationship to the financial side of our business.
As far as preparing for these changes, I try to keep up to date on these changes by reading articles, talking to others in the industry, and attending training seminars. One thing I'd like to see more of is the passing of knowledge from experienced superintendents to their crew members, as well as from experienced PMs to project engineers. Most of these experienced people like to share their lessons learned and it is our responsibility to pass on that knowledge. There is no need to recreate the wheel.

link